Summary
I created a logo for M.E.E.T. using Adobe Illustrator. I made 4 different iterations of my logo and used a custom font from 1001fonts.com for any words on the logos.
Sketches

Iterations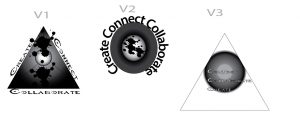 What I learned and problems I solved
I learned how to create basic shapes in Adobe Illustrator as well as how to add fonts to a mac. I also learned how to transform objects and text. I learned how to create ink blots in order to make a logo. I learned to make radial and linear gradient colors as well, which helps with contrast. I had problems with figuring out how to place text on a path as well as figuring out what I wanted for future iterations. The most challenging part of the project was figuring out how to transform text. I am most proud of the reverse text M.E.E.T. Logo, as that took a long time to create, despite it being a simple design. I downloaded the Halo3 font from 1001fonts. I used the shape creation tool, the transform tool. the text tool, and the symbol sprayer tool.